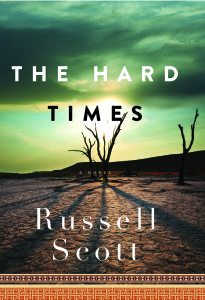 ORDER NOW
The Hard Times by Russell Scott – $30.00 in hardback
Dr. Ray Moffett is facing an abyss. And one foot's over the edge.
When his best friend and partner dies just six weeks after retiring, Ray gets a glimpse of what his own future could look like, and it looks pretty grim. A few more years in the ER, then pushed into retirement himself, a marriage he's wrecked by having an affair, and two grown kids that don't want to hear about any of it.
A chance meeting with Fritz Dietrich, a professional hunter from Namibia gives Ray a new plan. Ray, who's never fired a gun before in his life, decides to go to Africa to re-define who he is by hunting things that can kill him. Unfortunately for Ray, the thing that's most likely to kill him is Fritz.
Fritz is wanted in three countries for smuggling, gun running, and a shoot out that left six policemen and soldiers dead. He's only managed to avoid swinging from the end of a rope for as long as he has because his brother, Manfred, has managed to block extradition.
Manfred is the head of security for all mining operations in Namibia and works directly for the President. He has a couple of problems of his own to deal with. For starters, he needs to find a way to hide two hundred million dollars worth of black market diamonds hidden in the national reserves from U.N. investigators. The other problem, the one that keeps interfering with his schedule to take care of the first one is a newly diagnosed lung cancer he hadn't planned on.
Ray is the answer to both Manfred's and Fritz's dilemmas. He's the right size, the right hair color, and he doesn't have anybody who will notice he's missing to mess things up. They just need his papers and a few days. Now, all they have to do is kill Ray, and everything should turn out just fine.
Suddenly, Ray has some real problems to deal with.