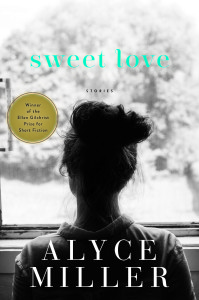 $25.00 in hardback

$6.95 in e book

Sweet Love is a collection of twelve short stories by award winning author Alyce Miller. In this, her fourth book, the reader finds themselves transported and immersed in a dozen remarkably diverse and disparate lives, and drawn into a voyureistic peep show of hopes, fears, and surging and conflicting emotions.
Imprisioned in a car with a group of teenage girls alive and free on their first unsupervised road trip, and not sure how to deal with that freedom as they confront the anxieties implicit in facing the unfairness and abuses they've each already seen in life.
It's a missing college girl, and the misplaced guilt of one of the last people on earth to see her alive, it is the weighty truth of the secret of flight, prison love, sex trafficking in Bangkok, an abusive lesbian relationship and a brother's love, the conflicting emotions in adoption, and more, too many things for comfort, but it's impossible to look away. Each story is a self contained gem, that adds and enhances a larger perspective
Alyce Miller has the ability to take the reader by the hand and lead them to peek through life's windows and the cracks in its doors and she does it in a language that carries each narrative like a fast moving stream. She is an author at the peak of her skills.
Alyce Miller was born in Zurich Switzerland and has lived at different times in the Mid-West, in Michigan and Ohio, and for many years on the West Coast in the San Francisco Bay Area.
She is the inaugural winner of the Ellen Gilchrist Prize for Excellence is Short Fiction, for the story Missing.
She is the author of three prior highly regarded works of fiction, The Nature of Longing, which won the Flannery O'Connor Award for Short Fiction; her novel, Stopping for Green Lights, published by Anchor/Doubleday; and Water, which was a winner of the Mary McCarthy Prize for Short Fiction. She is also the author of the nonfiction book, Skunk, in the prestigious Animal Series from Reaktion Books.
She has previously been the recipient of the Lawrence Prize by the Michigan Quarterly Review, and of the Kenyon Review Award, for Literary Excellence in Fiction.
Her stories, poems, and essays have appeared in numerous literary magazines and journals. She currently lives in Bloomington, Indiana, where she teaches at Indiana University and offers legal services as a pro bono attorney.