China Grove #4 is both the same and different, no longer a periodical, China Grove has become an annual collection. Number 4 opens with an interview by America's Homer, Shelby Foote. In this interview, conducted just before NPR made him a national treasure, this is Foote as passionate author, not yet the celebrity. This is followed by Hunter McKelva Cole's exploration of the relationship between Frank Lyell and Eudora Welty, both talented, promising students who became dear lifelong friends. We awarded the China Grove Prize for Excellence in Poetry to Ian Ganassi and we present a selection of his work from his upcoming collection Mean Numbers. There is a wonderful essay by Ellen Gilchrist and reflections on Pat Conroy. The poetry, fiction, and essays are wonderful and diverse, there is something for almost everyone.

PAST ISSUES:

China Grove #3 – Is out, the first Ellen Gilchrist Prize for Excellence in Short Fiction goes to Alyce Miller for her story Missing, the remainder of the issue is a tribute to storytelling through short fiction, creative non-fiction, poetry, and imagery. It starts as our featured writer Jonathan Odell gives us a look at the civil rights struggle through the eyes of a young boy growing up in the deep south. The poetry in this issue is about as good as it gets and is incredibly diverse. The front and back covers by the late Jean Loeb and Sandra Luckett are stories in themselves.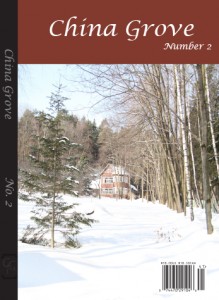 China Grove #2 begins with a look at the Soviet Writers' Colony, Peredelkino, its formation by Joseph Stalin, its residents, its effect on modern literature, and the loss which resulted from the execution of almost a quarter of its population. With the twentieth anniversary of the release of the movie "Forrest Gump" we sit down and talk to Gump's author Winston Groom about his writing and his career. We have an excerpt from Deborah Johnson's wonderful new novel, "The Secret of Magic." And the fiction, essays, poetry, and art that is our purpose.

China Grove # 1 is still available, so if you don't have a copy order one now! It has a new short story from Ellen Gilchrist TOCCATA AND FUGUE IN D MINOR, from her new book ACTS OF GOD, we also have an interview on a career that spans twenty books at this point with a new one on the way. In addition to Ellen we have previously unseen letters from Mark Twain and Eudora Welty, a poem by noted Mississippi poet R. C. Wood, and some great visually stimulating art. The issue is rounded out by submissions from around the country and around the south.
Order China Grove #1 at $17.98. Limited number left!

E Book at $9.99
Or get all of the first three issues for $49.95.